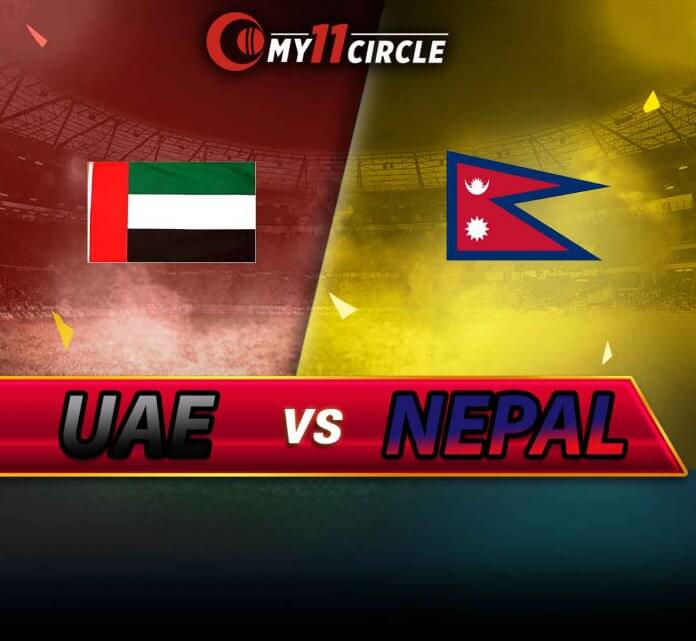 Deadline: September 9, 2019 at 9:30 AM IST

Venue: Mercantile Cricket Association Ground, Colombo

Pitch report

The pitch is a featherbed for batsmen, producing four half-centurions and one centurion in the previous match between Sri Lanka and UAE. Spinners, however, had some zip and turn as the pitch deteriorated.

Weather forecast

Thunderstorms and heavy showers are forecasted, with precipitation reading 80%.
Teams

Probable XI for UAE: Syed Haider, Niel rohan lobo, Vritiya Aravind (wk), Ansh Tandon, Alishan Sharafu, Osama Hassan, Sanchit Sharma, Muhammad Farazudding, Karthik Palaniapan Meiyappan (c), Akasha Tahir, Rishabh Mukherjee

Probable XI for Nepal: Rit Gautam, Pawan Sarraf, Asif Sheikh (wk), Kushal Malla, Rohit Paudel (c), Sundeep Jora, Bhim Sharki, Rashid Khan, Kamal Singh, Hari Chauhan, Sagar Dhakal
NOTE: Pick your fantasy cricket team wisely.

Fantasy tip

We have opted for a fantasy team on the basis of players' impact, recent performances, and credit points.

You can also check players' performances in the last 5 matches. Tap on the players' names to get the data while making your fantasy team.

My 11: Vritiya Aravind (wk), Rit Gautam, Sundeep Jora, Osama Hassan, Syed Haider, Ansh Tandon (c), Rohit Paudel (vc), Pawan Sarraf, Rashid Khan, Kamal Singh, Rishabh Mukherjee

Match prediction

This is a dead rubber. Both teams have lost both their matches against Bangladesh and Sri Lanka, failing to qualify for the semi-finals. They have nothing but pride to play for. The match prediction thus become difficult to narrow down. UAE, however, have a slightly better bowling attack.

Players to watch out for

Ansh Tandon scored a spectacular century against Sri Lanka, but his herculean efforts went in vain. Wickets kept tumbling at the other end and UAE eventually fell short by 52 runs.

UAE's consistent performer, however, has been Osama Hassan who has scored consecutive half-centuries at No. 6. They will get better results once they start performing as a cohesive unit.

In the bowling department, no one has been as effective as Rishabh Mukherjee. His off-spin has fetched him 5 wickets in 2 matches.

Nepal's Rit Gautam got off to a good start in both matches but could not capitalise. The same has been the case with his opening partner Pawan Sarraf: he was their highest run-scorer against Bangladesh but lost his wicket at a crucial juncture.

The reason for Nepal's disappointing tour has been their bowling performance, managing a mere 9 wickets in 2 matches. Kamal Singh and Rashid Khan have taken the bulk of the wickets (6).
Squads

UAE: Ansh Tandon, Anand Kumar, Mohammed Haider Shah, Ashwanth Chidambaram, Vritiya Aravind, Karthik Palaniapan Meiyappa, Aaron Benjamin, Akasha Tahir, Alishan Sharafu, Osama Hassan, Muhammad Farazuddin, Rishabh Mukherjee, Niel rohan lobo, Sanchit Sharma, Syed Haider

Nepal: Sundeep Jora, Khadak Bohara, Rohit Paudel (c), Pawan Sarraf, Kushal Malla, Pratis GC, Asif Sheikh (wk), Hari Chauhan, Lokesh Bam, Rit Gautam, Bhim Sharki, Sagar Dhakal, Surya Tamang, Kamal Singh, Rashid Khan
Also, get to know the tips & tricks on how to play fantasy cricket