The excitement is palpable, the cricketing world is buzzing, and the stage is set for the most awaited event of the year – the ODI Cricket World Cup. As fans gear up to witness epic clashes between nations on the field, fantasy cricket enthusiasts are also preparing for their own battle, one played out on virtual pitches and scorecards. In the realm of fantasy cricket, every run, wicket, and catch can make or break your chances of victory.
To help you emerge victorious in the world of fantasy cricket during the ODI World Cup, we've compiled a set of strategic tips. These strategies are designed to give you an edge, allowing you to select the right players, make informed decisions, and ultimately triumph in the fantasy contests. So, whether you're a seasoned fantasy cricket veteran or a newcomer looking to try your hand at it for the first time, these tips will provide you with valuable insights on how to craft a winning fantasy cricket team. Let's dive in and explore the key strategies that can lead you to fantasy cricket glory in this year's ODI World Cup.
World Cup Fantasy Tips:
India vs New Zealand, Semi Final, Cricket World Cup 2023: Fantasy Tips
Australia vs South Africa, Semi Final, Cricket World Cup 2023: Fantasy Tips
Research Players
To build a formidable fantasy team for the ODI World Cup, begin with thorough player research. Beyond historical stats, scrutinize recent One Day International (ODI) performances of the players. The My11Circle fantasy cricket app offers a treasure trove of information, including detailed player statistics and recent fantasy point tallies. These points serve as a barometer of a player's current form. Monitoring these fantasy points is critical for selecting players who exhibit current top-notch form.
Confirm Player Availability
Before selecting a player, it's crucial to confirm their inclusion in the starting XI. The My11Circle app provides valuable insights by showcasing the probable XIs, aiding you in selecting players with the highest likelihood of featuring in the match. To ensure your selections are accurate, take a moment to reassess your team after the toss. Additionally, we offer a handy substitute feature that allows you to choose backup players. In the event that any of your initial selections don't make it to the playing XI, the substitutes you've picked will seamlessly take their place. This feature ensures you stay ahead in the game, adapting to any unforeseen changes effortlessly.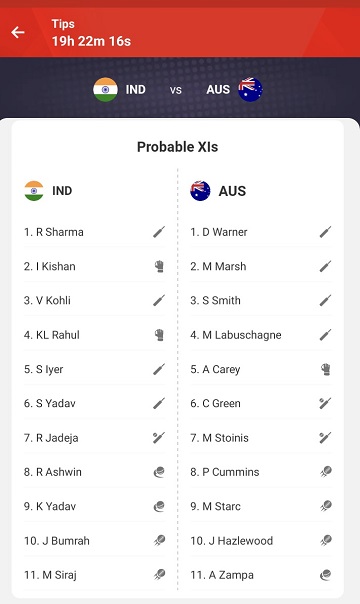 Read Pitch Report & Weather Conditions
The influence of pitch and weather conditions on player performance cannot be overstated. ODI World Cup 2023 will be played in India where Cricket pitches have distinct characteristics, some encouraging batting first, others favoring chasing, and some lending support to spinners or pacers. My11Circle offers specialized match tips, supplying venue insights such as pitch information, weather forecasts, and average scores for the first and second innings. This valuable information keeps you abreast of the ever-changing playing conditions.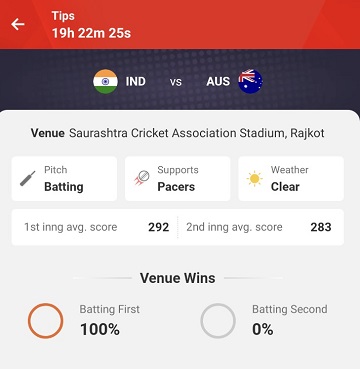 Pick Captain & Vice Captain Wisely
In the realm of fantasy sports, the selection of your captain and vice-captain holds the power to make or break your winnings. On My11Circle, the captain notches up twice the fantasy points, while the vice-captain secures 1.5 times the points. To maximize your chances of winning, make astute choices by picking players who are poised to make the most substantial impact on the match as your captain and vice-captain.
Also Read:
Most Runs in ODI World Cup 2023
Best Batting Strike Rate in ODI World Cup 2023
Best Batting Average in ODI World Cup 2023
Most Centuries in ODI World Cup 2023
Most Sixes in ODI World Cup 2023
Most Wickets in ODI World Cup 2023